ISC Recognized as Top Electrical, Trade and 4th Overall Contractor By Associated Builders and Contractors
March 9, 2021 – Baton Rouge, LA – ISC announced today that the company has been ranked Top Electrical, Trade and 4th Overall on Associated Builders and Contractors (ABC) Top 200 Performers list.  Each year, ABC recognizes contractors for their achievements in safety, quality, diversity, project excellence and special designations, ranked by workhours.  ISC has earned a position on the list in every year ABC has ranked contractors earning an Accredited Quality Contractor credential for their commitment to excellence.
"We share these prestigious awards with the men and women who exemplify ISC's commitment to word-class safety and providing the highest level of quality engineering and construction," said Donnie David, President of ISC.  "ISC continues to lead the industry because our associates live each day with a high degree of integrity, which drives our performance in all aspects of life, especially the safety of our people and the quality of work we deliver."
To be eligible, ISC demonstrated world-class safety performance by achieving Gold status or higher in ABC's STEP Safety Management System, which makes the top-performing contractors up to 655% safer than the U.S. Bureau of Labor Statistics industry average, according to the ABC 2021 Safety Performance Report. The Top Performers were ranked by size based on the number of hours worked in 2019, as reported in their 2020 STEP applications.
"The common priorities in our third annual list of ABC Top Performers include culture, safety, innovation, workforce development and driving market value," said Michael Bellaman, president and chief executive officer of ABC. "Collaboration and adaptation created a safer, more productive jobsite and workplace for ISC and I applaud these industry leaders for setting the standard in developing people, winning work and delivering that work safely, ethically and profitably."
Access the 2021 Top Performers list at abc.org/topperformers.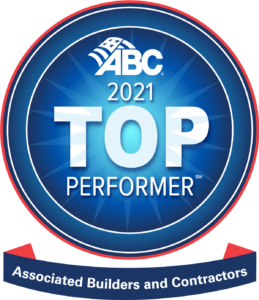 ISC is an industry leading, full-service industrial engineering and construction company.  For 30 years, ISC has successfully delivered specialized electrical, instrumentation and control solutions to global chemical and petrochemical companies throughout the U.S.  With regional offices strategically located throughout the Gulf South, ISC consistently provides innovative E&I solutions while putting safety above all, supporting our communities, and protecting the industry through active engagement and nationally recognized workforce development programs.